E.coli O157: H7 PCR-detektionssæt
Produktdetaljer
Produktetiketter
E.coli O157: H7 PCR-detektionssæt (lyofiliseret)
48 test / kit, 50 tests / kit
Escherichia coli O157: H7 (E.coli O157: H7) er en gramnegativ bakterie, der hører til slægten Enterobacteriaceae, som producerer en stor mængde Vero-toksin. Klinisk forekommer det normalt pludselig med svære mavesmerter og vandig diarré efterfulgt af hæmoragisk diarré et par dage senere, hvilket kan føre til feber eller ingen feber og død i alvorlige tilfælde. Dette sæt er velegnet til kvalitativ påvisning af Escherichia coli O157: H7 i mad, vandprøver, afføring, opkast, bakterieforbedrende væske og andre prøver ved hjælp af princippet om realtids-PCR. Sættet er et ALL-READY PCR-SYSTEM ( Lyofiliseret), som indeholder DNA-amplifikationsenzymet, reaktionsbuffer, specifikke primere og prober, der kræves til fluorescerende PCR-påvisning.
Komponenter
Pakke
specifikation
Ingrediens

E.coli O157: H7 PCR Mix

1 × flaske (lyofiliseret pulver)

 

50Test

dNTP'er, MgCl2Primere

, Prober, omvendt transkriptase, Taq DNA-polymerase

6 × 0,2 ml 8 brøndstrimlerør

(Lyofiliseret)

48Test

Positiv kontrol

1 * 0,2 ml rør (frysetørret)

 

10Tests

Plasmid indeholdende E.coli O157: H7-specifikke fragmenter

Opløsning

1,5 ml Cryotube

500 ul

/

Negativ kontrol

1,5 ml Cryotube

200 ul

0,9% NaCl
(1) Sættet kan transporteres ved stuetemperatur.
(2) Holdbarheden er 18 måneder ved -20 ℃ og 12 måneder ved 2 ℃ ~ 30 ℃.
(3) Se etiketten på sættet for produktionsdato og udløbsdato.
(4) Det lyofiliserede reagens til pulverversion skal opbevares ved -20 ℃ efter opløsning, og den gentagne frysning-optøning skal være mindre end 4 gange.
GENECHECKER UF-150, UF-300 realtids fluorescens PCR-instrument.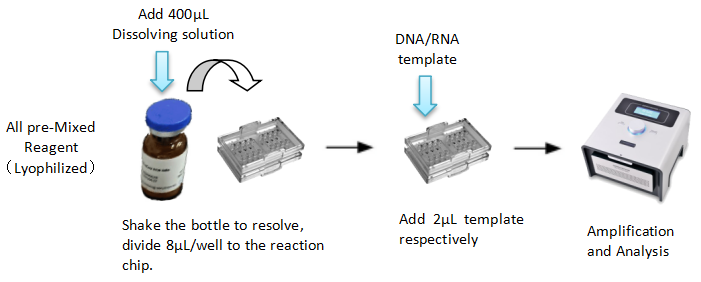 b) 8 versioner med godt stripe rør: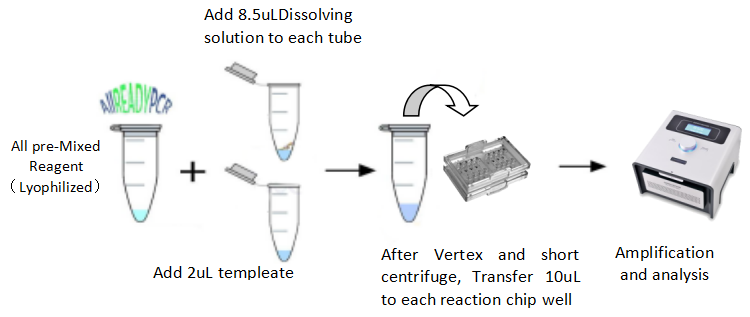 Anbefalede Indstilling
Trin   

 Cyklus

Temperatur (℃)  

Tid

Fluorescens kanal

1

1

95

2 min

 

2

40

95

5s

 

60

10'ere

Saml FAM-fluorescens
* Bemærk: Signalet fra FAM-fluorescenskanalen opsamles ved 60 ℃.
Fortolkning af testresultater

Kanal

Fortolkning af resultater

FAM-kanal

Ct≤35

E.coli O157: H7 Positiv

Fortryde

E.coli O157: H7 Negativ

35<Ct≤40

Suspicious resut, retest*
*If the retest result of FAM channel has a Ct value ≤40 and shows typical "S" shape amplification curve, the result is interpreted as positive, otherwise it is negative.
---
Previous:
MIKROBIAL AEROSOL-PRØVER
---